← Back to portfolio
Corona Journal #4: Groceries
WARNING: The following is not a piece of fact-base journalism, but a real-time dystopic documentation inspired by the surreality we live in. Reader discretion is advised. 
Confirmed cases: 7.431 (+1.019)
Deaths: 434 (+78)

Days in self isolation: 15 

Symptoms: clear
Body temperature: 36.8C
Blood oxygen levels: 98%
After 15 days my anxiety about becoming infected has significantly reduced. I've found peace in preparation and precaution.
Now, a new anxiety has taken hold... The anxiety of an empty fridge. 
In February, seeing the virus make its way over to Europe and facing the laughs of denial around me, I decided to slowly stock my freezer with healthy meals. This stock got me through the early stages of the pandemic and helped me avoid the panic-buying virus-spewing masses in the supermarkets these past two weeks. 
I've been putting off going to supermarket until the hysteria waned.
But today, at last, it's grocery shopping day.
Luckily, this week the supermarkets decided to regulate the amount of people allowed inside. Once inside, things seemed to have settled down. There's hand sanitizer at the entrance. The shelves are full again. People try to keep their distance, though there is always at least one person that thinks coughing in public is still acceptable. 
You better stay at home next time with that cough, Susan.
The economic consequences of the pandemic are revealing themselves. The outlook for the Netherlands is an 8 percent contraction. For my home island, which is entirely tourism dependent, it's a whopping -40 percent. In the US, a staggering 3.3 million people applied for unemployment benefits.
In these terms, the Great Recession of 2008 is a mere blip: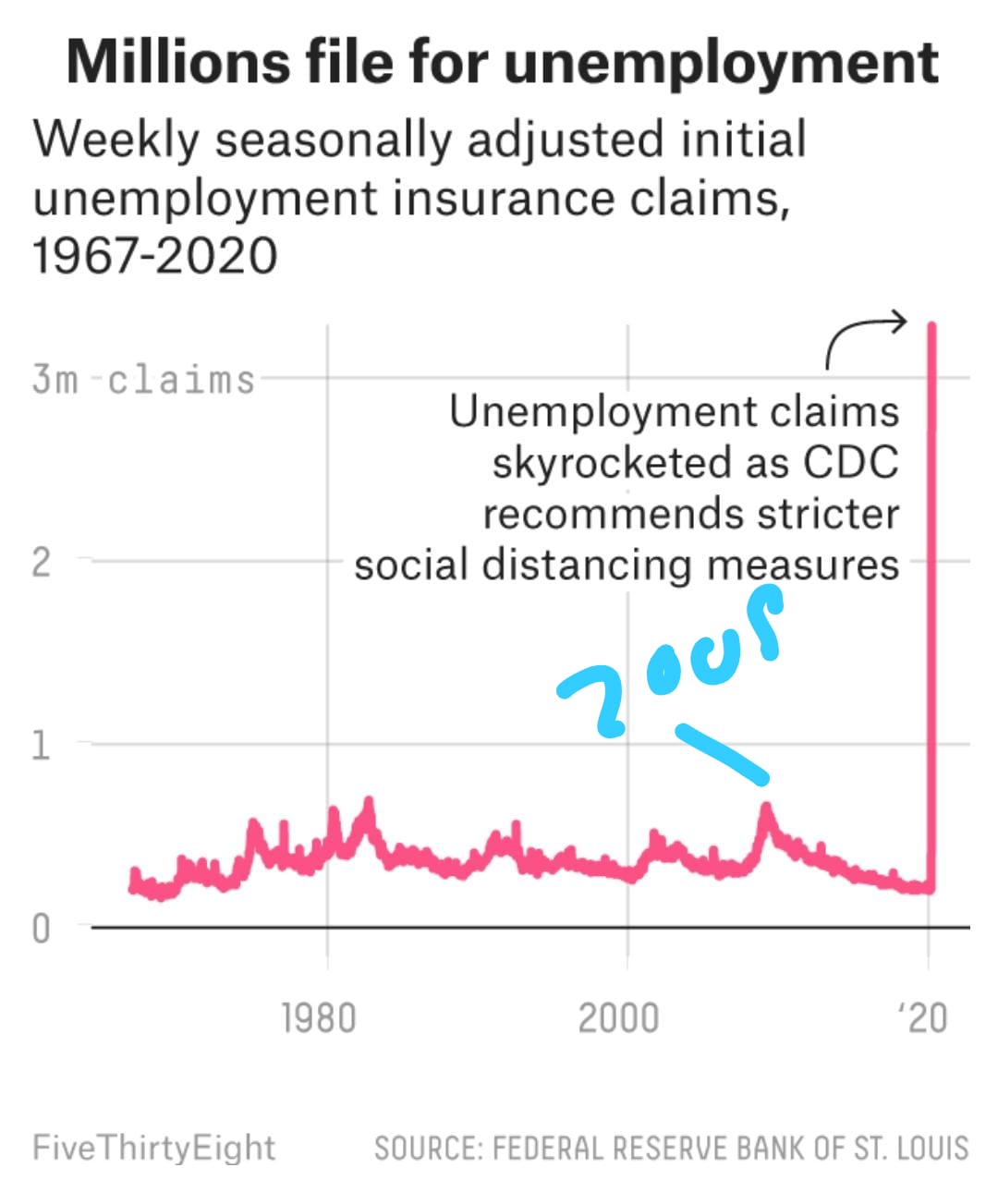 This pandemic is shaping up to be a marathon of pain. But as fast as the world has changed in the past two weeks, the strange seems to normalize even faster. 
I wake up. Take a shower. Get dressed. And head to the grocery store.